The concluding years of the 1970's recognized a requirement for the tri-forces to obtain not only military expertise, but an academic education, too. Following this necessity, former Prime Minister, General Sir John Kotelawala, donated 48 acres of his personal estate in Kandawala to the tri-forces in 1980. This grew to be the dawn of General Sir John Kotelawala Defence Academy. The Academy has now matured into a fully-fledged university, consisting of nine faculties, offering both undergraduate and graduate studies.
Several decades into the future, towards this present date, the capacity of Kotelawala Defence University was deemed insufficient to meet the growing demand of students and academics, and inspiration bloomed to broaden this network. Consequently, a corporate plan was developed in 2012 that foresaw a vision to establish campuses in the North and South. Thus, when the opportunity was provided to commence a University Village in Sooriyaweva, KDU accepted the brave challenge of becoming pioneers and establishing a superior quality learner-centered education through academic and professional programmes combined with practical research across many disciplines in the fields of defence and several academic aspects for its students.
The Faculty of Defence and Strategic Studies is responsible for the co-ordination of research work related to defence as well for discipline, military training and the administration of officer cadets.
The Faculty of Defence and Strategic Studies currently comprises of 43 officer cadets and 56 day scholars of the intake 32. The squadron which is formed with officer cadets as well as day scholars is divided into two troops for command and control. The squadron commander holds the responsibility of the entire squadron while troops are held under the supervision of troop commanders.
Sports and Recreation
Accomodation
Canteen Facilities
Bakery
Honour Shop
Sports and Recreation
The  officer  cadets  are expected  to maintain  their  physical fitness  and  foster  a comradeship  in keeping  with  the  service  traditions  by  actively  participating  in  sports . The  campus  provides  facilities   and  equipment for  games   such  as cricket, volleyball, netball as  well  as  for  individual  sports like badminton, table tennis ,weight  training   and  cycling. Trained service instructors  and coaches provide training to   individuals and teams.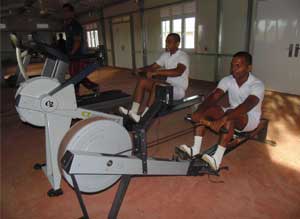 Accomodation
Canteen Facilities
Bakery
Honour Shop